Terrafirma Launches Expert Advisory Panel Led by Top Environmental Lawyer
Terrafirma's expert advisory panel: Top environmental lawyer to lead esteemed expert panel for fast growing ground-risk specialist.
12 February 2018 – Terrafirma, a specialist provider of bespoke solutions for the complex physical, financial and legal risks associated with the UK's mining legacy and ground hazards, has announced the creation of an Advisory Panel to provide ongoing guidance and counsel to the business and its clients, with particular focus on educating property market stakeholders to ground hazards, and the provision of innovative solutions. Chaired by highly respected environmental lawyer Andrew Wiseman OBE, the panel will meet on a regular basis to discuss issues raised by the business and the wider industry. The Panel comprises professionals and academics at the cutting edge of environmental and ground hazard solutions in the UK's built -environment, legal and insurance sectors.
The panel will also provide consultancy and guidance to the Terrafirma team including the identification of ground instability hazards, site investigations, emerging technologies and the impact of such environmental hazards in the conveyancing and legal markets.
Andrew Wiseman commented:
"With ground risk posing an ever-increasing problem to property transactions this is an exciting time for Terrafirma and, together with my fellow panellists, I am looking forward to being able to provide them with the guidance and advice to help them build on the great work that they have achieved so far, both in terms of educating the market and providing innovative ground risk solutions."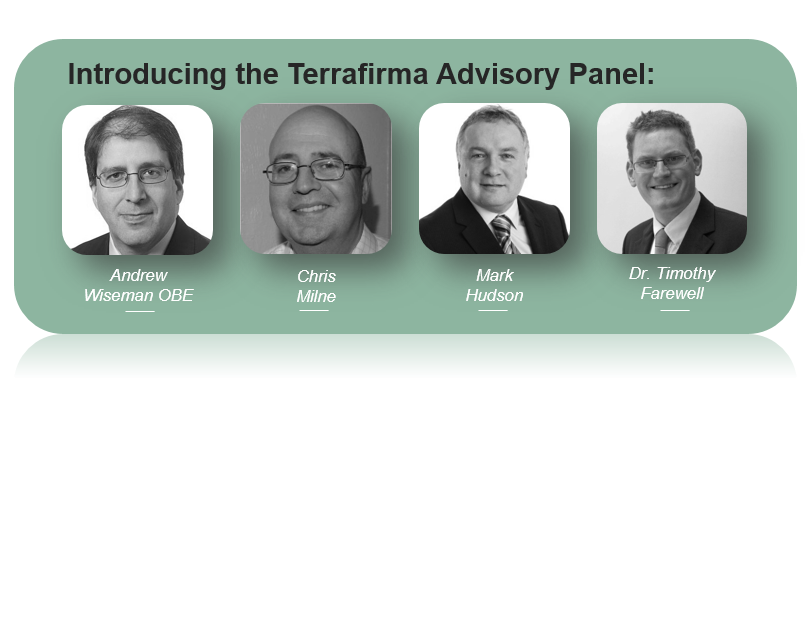 The three other Panel Members are Chris Milne, a renowned mining engineer and founder of Ground Stiffness Surveys Ltd, Mark Hudson, a highly respected mining and land surveyor and founder of Geoterra and Dr Tim Farewell, one of the UK's leading academics on ground hazards who is currently a Senior Research Fellow at the Centre for Environment and Agricultural Informatics at Cranfield University.
Tom Backhouse, CEO and Founder of Terrafirma said:
"We are truly excited to have assembled such an esteemed group to provide guidance and advice to us as we drive Terrafirma forwards and continue our work to educate the property market to ground risk. Not only will the Panel's input and expertise be invaluable, but it also sends a clear message of our intent to continue to provide thought leadership."
Kindly shared by Terrafirma