Housing Market back in the favour of sellers – NAEA Propertymark
Demand for housing from buyers has increased, while supply of available homes from sellers fell, as the number of homes sold to first-time buyers also fell.
Demand from prospective house-hunters increased by nine per cent in April, while the supply of available homes fell
The number of sales made to first-time-buyers also decreased
Housing market was swinging in the favour of buyers, but the dial has swung back the other way – NAEA Propertymark says
NAEA Propertymark issues April Housing Report
Demand for housing
Demand from prospective buyers grew by nine per cent in April; on average, estate agents had 337 house-hunters registered per branch, compared to 308 in March
This is much lower than last year though; in April 2017, the figure stood at 381, 13 per cent higher.
Supply of properties
In contrast to this, the supply of homes available to buy fell from 40 in March to 33 on average per branch in April.
Sales to first-time buyers (FTBs) and sales per branch
Month on month, the number of sales agreed remained the same, with eight per branch in April. However, the percentage made to FTBs dipped from 26 per cent in 2017, to 24 per cent
Year on year, this continues to fall. In April 2017, 25 per cent of sales were made to the group; 26 per cent in 2016 and 2015, and 28 per cent in 2014.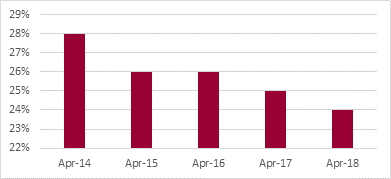 Mark Hayward, Chief Executive, NAEA Propertymark said:
"Last month our findings indicated that we were entering what looked like a buyer's market, but this month, the dial has swung back in the favour of sellers. With demand on the up, and the supply of available homes falling once again, buyers will find themselves facing stiff competition from other house-hunters. This is particularly difficult for FTBs who traditionally have less bargaining power on price, so will struggling to enter bidding wars with second or third steppers. The Government is working to improve the house buying and selling process, which is music to our ears, but until more homes are built and supply catches up with demand, the process will remain difficult."
Kindly shared by NAEA Propertymark