UK average cost of moving reaches record high of £7,356
The cost of moving house has never been more expensive according to comparison site, reallymoving.com. Even when adjusted for inflation, the average cost of moving in 2017 is the highest it's been since 2010 (£7,381) – and marks the third consecutive year of increases.
44% of the total cost of moving is made up of estate agent fees, representing on average, £3,254 of the £7,356 total moving cost. With the average estate agent charging 1.2% of the house price, rates as a percentage of the price are at an all-time low.  However, while estate agent rates might be falling, the 28% increase in average house prices means that estate agent fees remain similar in absolute terms.
This rise in house prices has also affected stamp duty, the second largest contributor to moving costs (27%). In 2017, the median property value would result in a stamp duty fee of £2,019.  This is compared to £1,814 for the median property value in 2007.  Due to the economic crisis in 2009, the basic stamp duty threshold was increased to £175,000, higher than the median UK house price that year. This meant that for over half the property transactions during 2009, no stamp duty was paid, significantly reducing the average cost of moving.  With the recent increase in property prices, stamp duty fees have risen significantly. While the Chancellor did go some way to rectify the problem for first time buyers, cutting the lower thresholds of stamp duty in the recent Budget, this will affect a relatively small portion of the market.
Table 1 – Change in cost of moving 2007 vs. 2017
2007
2017
% change
Conveyancing Disbursements & Expenses Sale
£48
£74
54%
Conveyancing Disbursements & Expenses Purchase
£245
£336
37%
Conveyancing Fees Sale
£264
£376
42%
Conveyancing Fees Purchase
£264
£363
38%
Survey – Homebuyer Report
£347
£399
15%
Removals
£470
£480
2%
EPC
£116
£55
-53%
Stamp Duty
£1,814
£2,019
11%
Estate Agent Fees
£3,117
£3,254
4%
Total Cost of Moving
£6,685
£7,356
10%
Median House Price
£181,364
£225,956
25%
Inflation – Consumer Price Index (CPI) with 2007 as base
29%
Figure 1 – Inflation adjusted cost of moving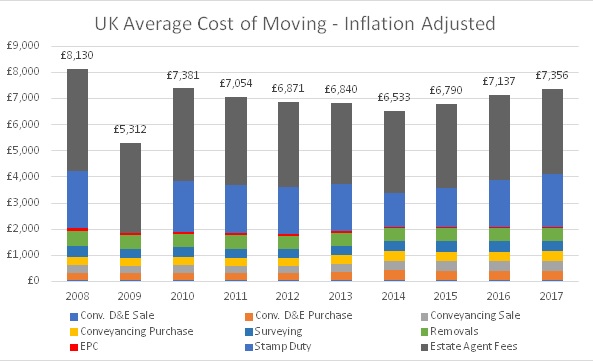 NB "Conv D&E" = conveyancing disbursements & expenses. All costs in 2017 terms and based on UK median property values.
Rob Houghton, CEO of reallymoving.com said:
"Increases in fees for services and, in particular, for stamp duty has seen total cost of moving rise to the point where a single move costs nearly a third of the median annual salary. While there is no simple fix, there are a number of measures that consumers can take to manage the condition.  Buyers can reduce the cost by shopping around, using well-priced and well-reviewed conveyancers, surveyors, removers, and estate agents."
While stamp duty and estate agent fees make up the majority of costs, other, less prominent expenses, can equate to a large proportion of overall moving costs when they are combined.
Removal costs – the third most significant expense – can vary dramatically, depending on the distance of the move and the volume of possessions transported. With the national average currently at £380, these prices have not changed dramatically over the last decade.
The typical cost of a HomeBuyer Report is £400, which is similar to the price it was a decade ago. This is good news for consumers as with survey providers competing for business, shopping around can prove an easy way to decrease moving costs.
Kindly shared by Reallymoving