Reallymoving House Price Forecast December 2019
The Reallymoving House Price Forecast December 2019 has just been published, and shows dawn of a new decade will bring fall in house prices.
Headlines:
Average house prices to dip by 2.1% over the next three months (December 2019 to February 2020)
Annual growth remains positive with values in February set to be 4.5% higher than in February 2019
Market continuing to follow seasonal trends despite General Election and wider political uncertainty
| | | | |
| --- | --- | --- | --- |
| Month | Average price agreed | Monthly change % | Annual change % |
| October 2019 (actual) | £299,486 | 0.1% | 3.3% |
| November 2019 (actual) | £298,682 | -0.3% | 3.3% |
| December 2019 (forecast) | £295,451 | -1.1% | 2.6% |
| January 2020 (forecast) | £295,559 | 0.0% | 2.2% |
| February 2020 (forecast) | £292,367 | -1.1% | 4.5% |
House prices in England and Wales are set to fall by 2.1% (1.4% when seasonally adjusted) over the next three month period (December 2019 to February 2020) as we head into a new decade, yet annual growth will remain in positive territory despite a General Election and further delays to the UK's anticipated departure from the EU, according to the reallymoving House Price Forecast December 2019, released today.
As homebuyers register for quotes for home move services on the site typically twelve weeks before their purchase completes, reallymoving is able to provide an accurate three-month property price forecast based on the purchase price agreed. Historically, reallymoving's data has closely tracked the Land Registry's Price Paid data, published retrospectively (see Graph below). This forecast is based on mix-adjusted data from sales agreed in September, October and November 2019, which are on course to complete over the next three months.
Monthly price changes
Average prices in England and Wales are set to decline by 1.1% in December, remain stable in January (0% change) and fall again by 1.1% in February 2020. Price falls in February are typical and despite the wider political context, the housing market is continuing to follow its usual seasonal pattern.
Encouraged by extremely low borrowing costs and a strong jobs market, increasing numbers of buyers and sellers are agreeing deals, as evidenced by the most recent HMRC transaction data (October 2019) which shows a 4.3% monthly increase and 4.3% annual increase in property transactions.
Annual price changes
Year on year, house prices continue to perform more strongly, albeit against a relatively poor performance last autumn when prices fell by -4% between the end of summer and the end of the year (August to December 2018).
The housing market in England and Wales is on track to see positive annual growth of 2.6% in December, 2.2% in January and 4.5% in February 2020 when the average price will be £292,367 compared to £279,764 in February 2019. This trend is supported by the most recent Land Registry Price Paid data which shows 2.5% annual growth in October 2019.
Regional 3-month price forecasts 
Just two regions of the UK, the East (3.1%) and the North East (0.3%) are expected to see average price rises during the three months to February 2020, with values in the rest of the UK set to see prices decline at the beginning of the year. Particularly heavy falls are forecast in Wales (-15.4%), Northern Ireland (-5.8%) and Yorkshire & Humber (-5.5%), although smaller datasets are likely to contribute to volatility of data in these areas.
London is expected to see prices fall by 3% over the next three months, but as the market most affected by Brexit uncertainty, it could be the first to experience in an uptick in buyer activity, transaction levels and ultimately prices if Brexit is resolved with a deal and a departure at the end of January.
Analysis and commentary
Rob Houghton, CEO of reallymoving, comments:
"Buyers have driven hard bargains on deals agreed during the autumn, as would be expected in the run up to Christmas and considering the wider political circumstances.
"But the market has shown resilience and stability throughout 2019 and as fears of a crash have faded, buyers have adjusted to the ongoing uncertainty and proven themselves keen to get deals done. Encouraged by cheap loans and favourable buying conditions, first time buyers are a strong force in the market, accounting for 54% of all purchases.
"Transaction volumes remain down by around 12 – 15% currently, but If the Conservatives win the General Election as the polls suggest and manage to secure the UK's withdrawal from the EU at the end of January, a rise in demand from these buyers could prompt a rapid bounce in prices as the uncertainty surrounding Brexit is resolved."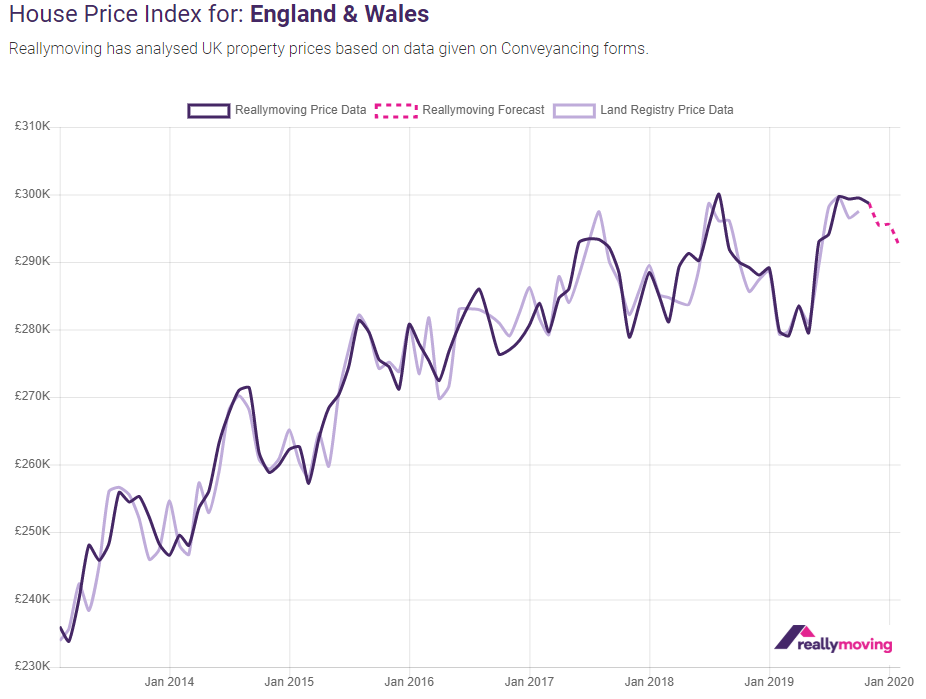 Kindly shared by Reallymoving.com