Inheritance plans reveal UK's property priority, Just Group research finds
Research from retirement specialist, Just Group reveals how UK adults expecting to receive an inheritance are planning to use the money – and although different age groups have different priorities, they are united in their focus on property with it being a top three priority for each group.
Headlines:
18-34-year-olds plan to get on the housing ladder
Middle aged group (35-54 years old) prioritise paying off the mortgage
Inheritance to fund home renovations for the over 55s; paying off mortgage a priority for 15%
Nearly a third (30%) of those aged between 18 and 34 said they would use the money to get on the property ladder reflecting the challenge younger generations face in purchasing their own home.
For adults in the middle-age group (aged 35-54), priorities were more likely to be about securing their financial future by clearing the major debt of a mortgage, with a third (32%) intending to use the money to pay off their mortgage – the most popular choice in this age group.
Home renovations were more important for over-55s than any other age group with more than one-in-five (22%) planning to use inheritance money to improve their homes. One in seven (15%) also said that they would focus on paying off their mortgage with any inherited money.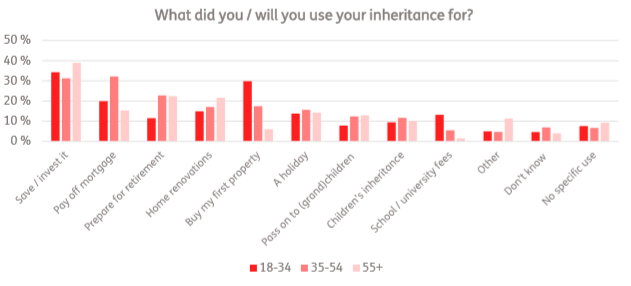 Stephen Lowe, group communications director at Just Group, said the findings show that inheritance remains central to the property dreams of many UK adults, commenting:
"Inheritance can provide a significant cash windfall and it is evident that many people are planning to use these funds to buy or improve their property in some way.
"The contrasting priorities of the different generations clearly reflect the property journey that many in the UK will follow over the course of their lives. The youngest focus on getting on the property ladder, before attention turns to paying off the mortgage and, finally, we see over 55s starting to consider home improvements as they move into retirement."
Aside from property, saving or investing at least some of money from an inheritance remains the default option for most people with over a third (34%) of the youngest age group and nearly two in five (39%) of over 55s saying this is how they would use the money.
Starting to make preparations for retirement – whether putting away money for later-life care or boosting a pension pot – is also a major focus for many over the age of 35. While paying off the mortgage was their top priority, 23% percent of 35-54-year-olds also said they would use some money to prepare for retirement, as did 22% of over 55s.
The research also reveals that young people would use an inheritance to pay for tuition fees. Around one in seven (13%) 18-34-year-olds opt to pay for school or university fees with the money – a similar proportion to those who would splash out on a holiday (14%).
Stephen Lowe observed that while every individual's situation will be different it is important for everyone who receives an inheritance to take into account their short- and long-term needs when deciding how to put the money to use.
He said:
"This research gives an indication of how important receiving an inheritance is for many in the UK – young and old. That lump sum will allow them to make significant life decisions and help them accelerate achieving some of their financial plans that may have taken years to achieve otherwise.
"We would encourage all adults who receive a sizeable inheritance to explore receiving regulated financial advice from a professional adviser. A qualified adviser will help people to consider what they most want to achieve in their lives and then help them to build a financial plan to meet these goals."
Kindly shared by Just Group