Habito adds portfolio landlord mortgages to its buy-to-let product range
LONDON, 19 November 2019: Habito, the pioneering mortgage broker and lender, today launches a range of competitively-priced mortgages designed specifically for the portfolio landlord.
This latest product launch now gives the company comprehensive coverage of the buy-to-let mortgage market, following Habito's announcement of its first suite of company buy-to-let mortgages in September, after it entered the lending market with products for individual landlords in July this year.
With this expansion of the Habito BTL range into portfolio mortgages, landlords with four or more mortgaged buy-to-let properties can now benefit from the company's expert underwriters and specialist buy-to-let mortgage brokers who, together with Habito's technology, can offer outstanding levels of service and lightning-fast turnaround times.
Portfolio landlords often require a specialist underwriting approach, which traditionally has led to long wait times and higher levels of admin from the applicant. Research undertaken by Habito found that prospective portfolio landlords were most frustrated at the time taken during the mortgage application process and the number of forms they are required to provide.
Habito's data found that the industry's average time to offer for a buy-to-let is a disappointing 21 days. Thanks to the new lender's unique proprietary technology, which is designed to provide the fastest mortgage process in the country, Habito can provide landlords with an offer in under 10 days. Decisions in Principle (DIPs) have been replaced with the Habito Instant Decision, which involves rigorous and fast-tracked checks at the outset, guaranteeing greater certainty and speed. Habito also keeps documents required during and post-submission to a minimum.
Available through Habito's brokerage, the rates and pricing are among the industry's most competitive. Eligible landlords will be able to secure financing for their investment with a deposit of just 20%. Rates are available starting at 2.54%, and 2.59% for those buying through a company.
Daniel Hegarty, Founder and CEO of Habito, said:
"Launching our portfolio buy-to-let range means that we are now one of the most comprehensive buy-to-let mortgage lenders in England and Wales and can help any landlord who comes to us. But we're not stopping here. We know that landlords are increasingly interested in more specialist classifications of property to help diversify their portfolio, including houses of multiple occupancy (HMOs), holiday lets and multi-use freeholds. We are constantly enhancing our underwriting and system capabilities and will be able to lend on those types of properties very soon."
Habito's range of portfolio BTL mortgages will be available via the Habito brokerage where all customers receive free, whole-of-market and independent advice. For more information about Habito's vision, the full range of mortgages and how to apply, visit: habito.com/borrow-with-us and habito.com/more-than-a-broker.
Interest rates: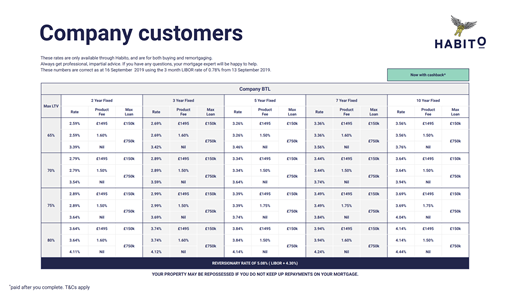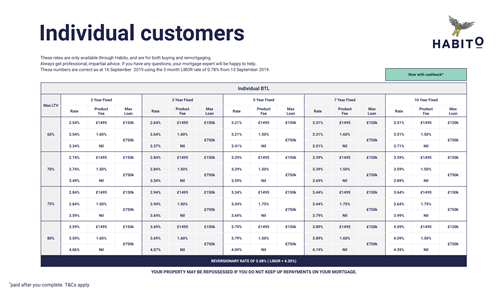 Kindly shared by Habito