Garden centres urged to place warnings on invasive bamboo
06 April 2021: Garden centres should place written warnings on bamboo to highlight its invasive nature and educate customers on the risks of planting it in their gardens, warns invasive plant specialist Environet UK.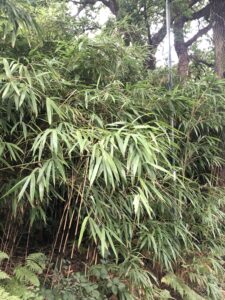 Invasive bamboo has become a major problem for British homeowners in recent years, with customer enquiries relating to bamboo removal more than doubling (+140%) over the last twelve months, according to Environet's data.
Easy to grow, hardy and tolerating most soil types, bamboo is particularly favoured in urban areas for its screening qualities, creating privacy in overlooked gardens. But most species are invasive if left unchecked, with the 'running' varieties causing particular problems by sending out long lateral shoots that can spread up to 30ft beneath the ground to emerge in neighbouring gardens and beneath fences, patios, sheds and even homes. All types of bamboo have large underground root and rhizome systems and some common varieties can easily reach heights of 5 metres, blocking light and views.
Due to the extraordinary distance the roots can travel, running bamboo has the potential to be more damaging to property than Japanese knotweed and has similar abilities to push through brickwork, drains, cavity walls, patios and exploit cracks or weaknesses in concrete.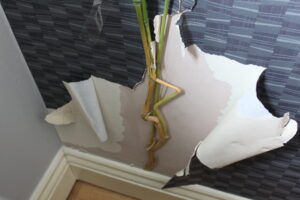 Nic Seal, Founder and MD of Environet, said:
"It's time for garden centres and plant nurseries to take some responsibility for the escalating problem being faced by gardeners up and down the country who have bought bamboo in good faith with no warning of the risks.
"The fact is that most bamboos are invasive – and I expect they would be a good deal less popular if gardeners were given the facts at point of sale. We're regularly dealing with entire gardens that are a mass of bamboo rhizome, where homeowners have desperately tried to keep on top of the problem by cutting back or mowing new shoots as they emerge. But once it's on the run, the only way to deal with it properly is to excavate the root ball and dig out every lateral rhizome, which often means chasing them across boundaries into neighbouring gardens.
"I've even seen bamboo growing up between the skirting board and wall of a house, having encroached beneath the patio from next door's garden and exploited a weakness in the property's foundations."
Case study: A tropical garden gone wrong
Having lived in Asia for many years, Kate Saunders was keen to recreate a tropical garden at her home in Wandsworth, South West London. She had some concerns about planting bamboo as she had heard it could spread, but her gardener reassured her that it could be contained by planting it in a lined trench.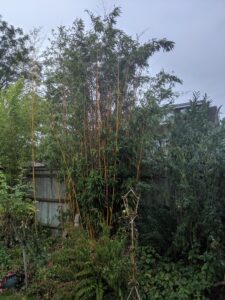 However, after a number of years the bamboo escaped, with new shoots appearing in distant parts of the garden and on the other side of the fence in her neighbour's lawn. After they complained, the bamboo was fully excavated from both properties.
Kate said:
"We thought the garden designers had taken precautions to contain the bamboo in a trench but unfortunately it didn't work. I wanted to create an exotic haven in my garden, and it did look lovely, but the bamboo ended up being an expensive mistake. I'd advise anyone considering planting bamboo to think twice and only plant it in pots or containers above-ground – and be prepared to do a lot of maintenance to control it."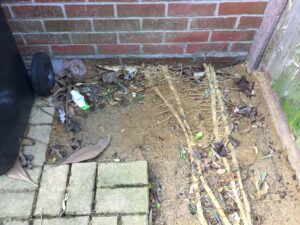 Advice to gardeners
Bamboo is best avoided completely, but if you do want to plant it, here's how to prevent it spreading:
Choose a clumping variety such as Bambusa or Chusquea.
Always plant bamboo in a container or strong pot – never directly into the ground.
Use a strong vertical root barrier to line the container, which is designed to contain bamboo.
Prune bamboo hard and regularly, at least every spring, to keep it in check.
It is possible to treat a bamboo infestation using the energy depletion method, which involves cutting the canes to ground level before new leaf appears and repeating the process annually in order to deplete the energy reserves in the root system – but it can take several years.
Bamboo can be professionally excavated in a matter of days with root barriers put in place in cases where customers wish to retain some of the plant.
Kindly shared by Environet UK
Main article photo courtesy of Environet UK