Buyers beware of Japanese knotweed risk in rush for completion
Homebuyers rushing to meet the March 31st deadline for the Stamp Duty holiday may be tempted to cut corners and assume a property is unaffected by Japanese knotweed if there are no visible signs of growth, but this could prove to be a costly mistake, warns Environet UK.
Japanese knotweed dies back during the winter months making it much harder to spot – and recent changes to the guidance accompanying the Property Information form completed by sellers have resulted in an increase in "Unknown" responses to the Japanese knotweed question, leaving buyers to carry out their own enquiries. Research carried out by Environet in conjunction with YouGov indicates that 4% of sellers would be willing to conceal knotweed if it was growing on their property, meaning buyers could find themselves seriously out of pocket when the plant begins to emerge in just a few weeks' time – or facing the prospect of raising a legal case against the seller.
Nic Seal, Founder and MD of Environet UK, said:
"Later this spring I expect we'll see a sharp rise in legal cases against sellers who have failed to declare the presence of knotweed, leaving buyers desperately trying to recoup their costs. Japanese knotweed can impact a property's value by up to 10%, so it's essential that buyers carry out their own investigations if the seller is unable to offer any assurances, even if it means the conveyancing process takes longer. For those under pressure to complete by the end of the stamp duty holiday in March, it's worth noting that the cost of treatment combined with diminution of property value if knotweed is subsequently discovered would in most cases be far greater than the stamp duty saving on offer."
During the winter dormancy period from November to March, Japanese knotweed's bamboo-like canes are brown and brittle and the plant appears dead, but in fact the underground root system is very much alive and replenished with new energy reserves from the summer's growth. Sellers are legally required to declare if a property has Japanese knotweed but buyers are particularly vulnerable at this time of year when the plant is less visible. Those who are in doubt should undertake their own investigations by arranging a professional Japanese knotweed survey – or a dog detection survey, which will confirm the presence of knotweed even if the plant is hidden beneath the ground.
Where knotweed is present, it doesn't need to be a deal breaker. As long as a professional treatment plan is in place with an insurance-backed guarantee for the work which can be passed on to the buyer, the sale can go ahead unhindered. Treatment also does not need to be delayed until the spring. Increasingly popular are combination methods for treating knotweed which blend physical excavation with herbicide. They are highly cost-effective and importantly, ensure the garden is fully operational during the summer months with very little disruption or environmental impact.
Nic Seal continued:
"Deliberate concealment of Japanese knotweed is unwise. Dishonest sellers are likely to find themselves being sued for misrepresentation and may have to pay substantial legal fees and compensate the buyer for the inevitable decrease in the property's value. The best way to prevent knotweed delaying a sale is to be up front about it from the beginning and ensure there's a professional treatment plan in place to satisfy a buyer's mortgage lender."
Identifying Japanese knotweed during winter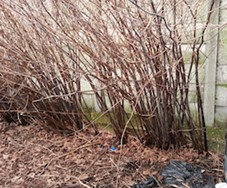 Brown, hollow canes remain standing but are easily snapped off.
Distinctive rhizome crowns remain in the ground, usually partly visible.
Leaves have turned brown and fallen from the plant.
Underground root system is alive and well, but lying dormant until the ground temperature reaches around 4°c, usually late March/early April.
Kindly shared by Environet UK