Buy-to-let yields drop in 2017 despite rising rents
Landlords are struggling to achieve significant yields on their properties in many parts of the UK, even after putting up the rent, according to new research.
Data from the Your Move Buy-To-Let Index shows average rents are up 2.4% year-on-year in England and Wales, and 2.5% in Scotland – but that embattled landlords are seeing their overall yields drop.
Which? explains what you need to know about the yield index, and which areas are performing best for buy-to-let investors.
Whether you're a first-time investor or a professional landlord, you can get impartial, expert advice on finding the right mortgage by calling Which? Mortgage Advisers on 0808 252 7987.
Rental yields down year-on-year
When you buy an investment property, your rental yield is the amount you paid for the property divided by the amount you receive in rent each year.
The average rental yield in England and Wales was 4.4% in October, with growth remaining flat month-on-month, according to Your Move.
More concerningly, this figure remains significantly below the 4.8% average yield recorded a year ago.
Cheaper areas producing better yields
Average property prices tend to be lower in the North of England – so unsurprisingly, the only regions to enjoy yields of 5% or more were the North East (5.1%) and North West (5%).
Yields were at their lowest in three of the most expensive regions to buy and rent homes – London (3.2%), the South East (3.3%) and South West (3.3%).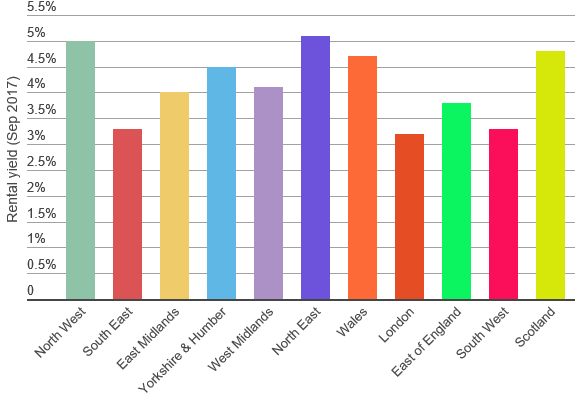 Yet expensive regions often – though not always – tend to be those with the highest capital growth. In some cases, rising property values may be more worthwhile to an investor than a strong yield, provided they can afford to cover the costs of running the property.
Before buying property as an investment, you should work out how yields and capital growth will factor into your portfolio.
Average rents up across the board
Average rents were up by 2.4% in England and Wales year-on-year, and 2.5% in Scotland – with the East of England (3.2%) and the North West (3.1%) leading the charge.
London and the North East were the only two regions to see a drop, with rents falling by 1% in both areas.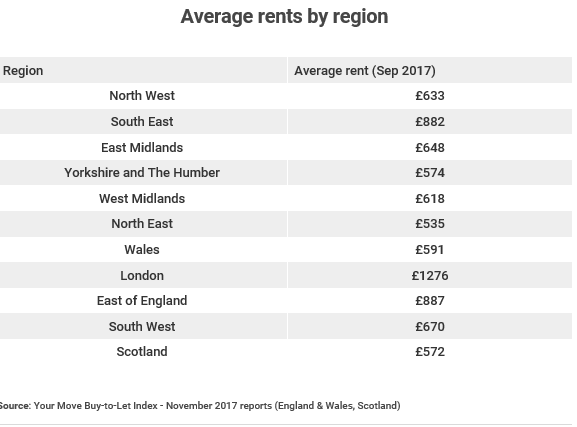 London increasingly unattractive for investors
High property prices, low yields and a fall in average rents mean that London is an increasingly difficult market to buy into for property investors.
Rents might remain well in excess of anywhere else in the country, even as far afield as Zone 5 (£1,086) and Zone 6 (£1,264). But so too do property prices – and with some outer areas showing signs of hitting their ceiling prices, significant capital growth is not guaranteed.
Recent changes have also made borrowing on mortgaged buy-to-let portfolios more difficult, with low yield properties less likely to be approved for loans. So it would be little surprise to see first-time investors and those growing their portfolios looking further north for lower-risk investment.
Factors to consider when investing in property
Rental yield is important, but it is by no means the only thing to consider when investing in property.
You'll need to think carefully about the local property market and whether your property is likely to gain enough capital growth to be a worthwhile investment.
It's fair to say that the last couple of years have been tough for landlords, with heavier taxation, tighter regulation and affordability restrictions eating into their profits.
If you're thinking of investing in property for the first time, get the lowdown on how this raft of regulatory changes will affect you by reading our story on 12 things buy-to-let landlords need to know in 2017.
Kindly shared by Which?