Average Estate Agency fee falls 34% in 7 years, according to research
Research conducted by TheAdvisory has found that the average selling fee charged by traditional estate agents for sole agency agreements has fallen to 1.18% (+ VAT) –  the lowest estate agency fee across the globe when comparing total commission payable with other major countries.
Key Findings
The average sole agency fee for traditional estate agents in the UK has fallen 34% since 2011
The average fee is now 1.18% (+ VAT)
UK estate agents charge the lowest commission when compared to most major global locations
47% of sellers pay more than the average sole agency fee
Over 95% of sellers choose a traditional high street agent over an online hybrid
Sole agency is the most common fee structure chosen by the public
Fees have fallen 34% since 2011, as high street firms feel under pressure to compete for instructions due to market conditions and the rise of the low fee online agent. This has meant that estate agents in prime areas overseas are earning more commission than those in the UK, with locations such as Mexico (7.5%), Japan (6%), France and USA (5%) at the top of the leader board. When analysing the 'seller side' fee only, the UK is the third cheapest country, beaten by China (0.5%) and Hong Kong (1%). See Figure 1
However, according to a recent online survey* that TheAdvisory hosted on their website, almost half of sellers paid over 1.18%, whilst more than 95% chose a traditional estate agent to sell their home rather than an online hybrid – which should bring reassurance to hundreds of property professionals across the country that they don't need to be lowering their fees so much.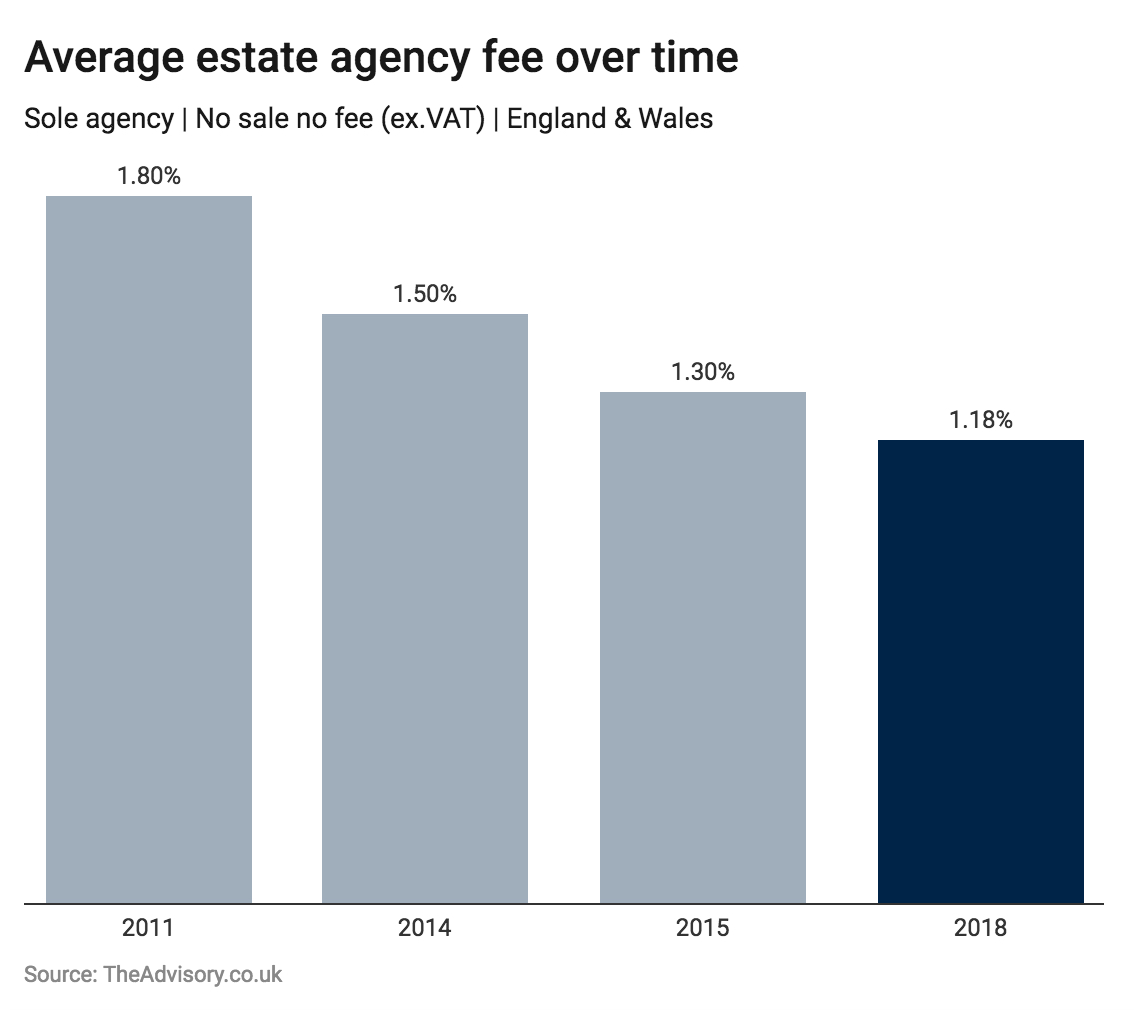 The survey found that 47% of sellers paid higher than the national average, with the majority paying 1.5% commission. 11% of sellers paid between 1.5% and 2%. (See Figure 2) Meanwhile, 95.3% of sellers chose to sell with a traditional high street estate who charge a 'no sale no fee' commission that usually includes all marketing materials and accompanied viewings, rather than an online hybrid who command lower fees upfront, with additional costs on top. Sole agency agreements were the most common fee structure (71.4%), followed by fixed fee (19.1%) and multi-agency (4.8%). This means less than 5% of sellers preferred an online agent to sell their home. See Figure 3
Gavin Brazg, Founder of TheAdvisory comments:
"It's sad to see so many agents dropping their fees in response to the 'perceived online threat'. It's also a mistake as the threat is far larger in the mind than it is in reality. Market share for hybrid agents is actually very low given the amount of money they've spent on marketing. Most sellers do not want 'cheap'. They want the extensive local expertise and high professionalism of a bricks and mortar high street agent. As long as you can justify your fees and differentiate your service, our figures show many sellers are prepared to pay up to 2% (+VAT), if not more."
You can read the estate agency fees study in full here.
Kindly shared by TheAdvisory