Annual House Price Growth in the UK Slows to 2.2%
The Halifax Bank have published an analysis of the annual house price growth in the UK and have found that it has slowed to 2.2%, according to their latest report.

Prices in the last three months to January were 2.2% higher than in the same three months a year earlier, although the annual change in January was lower than in December (2.7%)
House prices remained unchanged in the recent quarter (November-January) from the previous quarter (August-October); on this measure prices are down from the 1.3% quarterly rise recorded in December
On a monthly basis, prices fell for the second consecutive month in January (by 0.6% following a 0.8% decrease in December)
The average price of £223,285 at the beginning of the year is 1.9% higher than in January 2017 (£219,217), however, the current price has edged down after recording £226,408 – highest on record – in November
Russell Galley, Managing Director, Halifax Community Bank, said:
"Annual house price rises have slowed from 2.7% in December to 2.2% in January – the lowest rate since July last year. We've seen a monthly decline as well as the quarterly rate of growth flattening out.
"Although employment levels grew by 102,000 in the three months to November, household finances are still under pressure as consumer prices continue to grow faster than wages. Additionally, it's still too early to see any impact for first-time buyers from the abolition of stamp duty on purchases of up to £300,000, which was announced in the November Budget.
"Despite the recent rise in the Bank of England Base Rate, mortgage rates are still very low. This, combined with an ongoing acute shortage of properties for sale, will continue to underpin house prices over the coming months."
Key Facts – Housing Activity
Total UK home sales in 2017 were marginally lower (-0.6%) than in 2016 at 1.23 million.
Annual sales have averaged 1.2 million homes in the five years since 2013, compared to an
annual average of 890,000 in the previous five years. Transactions in 2017 Quarter 4 were 0.5%
lower than in the previous quarter. (Source: HMRC, seasonally-adjusted figures)
Mortgage approvals for house purchases ended the year with a sharp fall. The number of
mortgage approvals – a leading indicator of completed house sales – fell by 5.7% month on
month in December to 61,039, the lowest level since January 2015. Over the year to December
2017 total mortgage approvals were 2% lower than in the same period in 2016. (Source: Bank
of England, seasonally-adjusted figures)
Decline in instructions for sale continues. New instructions to sell continued to deteriorate at
the headline level and have now fallen for 23 consecutive months – the worst sequence for
almost eight years. Although average supply per agent remained broadly stable, it is still close
to historic lows. On the demand side, new buyer enquiries fell marginally, having been broadly
stable in the previous months. (Source: Royal Institution of Chartered Surveyors' (RICS)
monthly report)
The number of first-time buyers is estimated to have reached 359,0001 in 2017, according
to the Halifax First-Time Buyer Review. The number of first-time buyers has gone up by 6% in
the last 12 months, continuing an upward trend of six years. First-time buyers now account for
half of all house purchases with a mortgage, an increase from 36% a decade ago. This
increase in numbers has come despite the average deposit nearly doubling from £17,740 in
2007 to £33,339 a decade later. http://static.halifax.co.uk/assets/pdf/mortgages/pdf/2018-01-27-
number-of-ftb-highest-since-2007-HPI.pdf
1 Total number of first home purchasers with a mortgage estimated by Halifax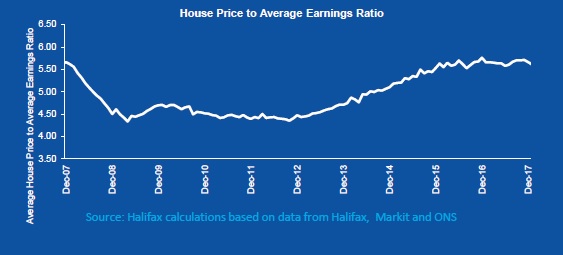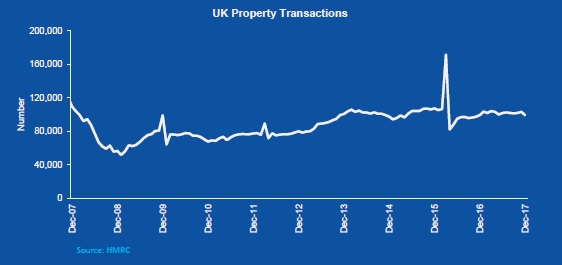 UK House Prices – Historical Data
(All Houses, All Buyers (Seasonally Adjusted))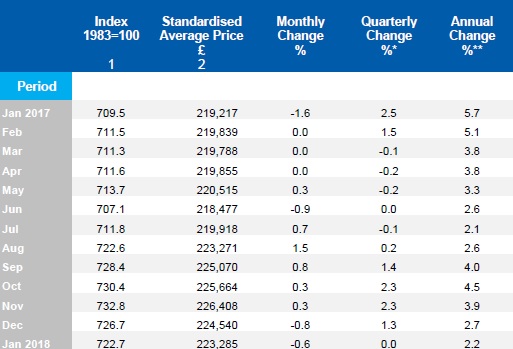 Kindly shared by the Halifax Bank