23% annual growth sees challenger firms set the pace among top conveyancers
The challenger firms in the conveyancing market experienced the largest year-on-year (YoY) growth in completed cases (23%) to build on their momentum from 2017, according to the Q2 2018 edition of the Conveyancing Market Tracker from Search Acumen, the property data insight and technology provider.
Firms ranked between 51st and 100th experienced largest yearly transaction growth (23%) as the challenger firms set the pace within the top 100, building on momentum from 2017
Those ranked 1st to 50th follow closely behind with 19% annual growth
Total conveyancing volumes for England and Wales grew 14% since Q2 2017 despite an 11% decline on a quarter-on-quarter (QoQ) basis
The average firm completed 58 cases in Q2 2018, up by seven cases compared with the same period last year (51) but down six from the last quarter
Over the last four years, firms which typically process over 50 transactions per month have grown in numbers, while the number of those processing under 50 have declined
With the top 100 ranked firms in England and Wales averaging 20% annual growth collectively during Q2, the tracker – which monitors business performance and competitive pressures in the conveyancing market – shows faster growth among the challenger firms ranked 51st to 100th, outpacing those ranked from 1st to 50th, whose transaction volumes increased by 19%.
The significant increases in yearly activity came despite a decline in quarterly transaction volumes in Q2 2018, based on completed transactions logged with HM Land Registry. On a quarter-on quarter (QoQ) basis, the total number of completed cases decreased by 11% from 271,546 in Q1 to 241,245. However, the annual picture shows a 14% boost compared with Q2 2017 when 210,964 transactions were completed.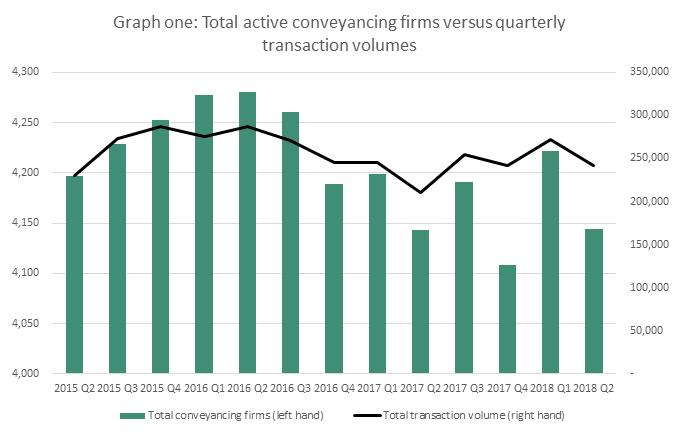 As a result, the average number of monthly cases each conveyancing firm dealt in Q2 2018 (58) dropped significantly from Q1 2018 (64), down six cases per firm. However, on a YoY basis, the average firm processed 14% more transactions in Q2 2018 than the same period last year (51).
A consolidating sector
The tracker shows total number of conveyancing firms active in the market dropped by 2% over the past quarter, from 4,222 in Q1 to 4,144 in Q2. However, the active population of conveyancing firms across England and Wales remained effectively unchanged year-on-year having stood at 4,143 in Q2 2017.
Search Acumen's analysis shows that, year-on-year, the number of firms averaging 50 transactions or more per month has increased by 59 (22%) from 273 to 332. This has been helped by the rise in market activity, with the number completing fewer than 50 transactions per month having fallen by almost the same (58) from 3,870 to 3,812.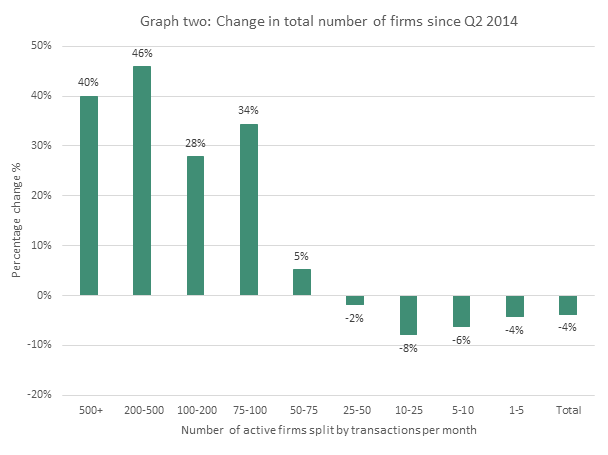 The same trend has occurred over the last four years, with a drop in the number of firms processing fewer than 50 transactions a month. The total number of active firms has dropped by 4% in this time from 4,305 in Q2 2014 to 4,144 now as some firms are fallen dormant or left the market.
Commenting on market trends, Andrew Lloyd, Managing Director of Search Acumen, said:
"There is no doubt that the conveyancing market is facing a challenging 2018, as housing transactions continue to see sluggish growth amid ongoing uncertainty across the country. Economically, the year was always going to be an unpredictable period, but our figures give plenty of reason for UK conveyancers to keep a spring in their step.
"Despite the testing environment, it is interesting to see challengers in the market – those mid-sized conveyancers – have enjoyed robust growth over the last year. In contrast, 'occasional conveyancers' have continued to diminish in number.
"Technology is already significantly reshaping the conveyancing market and all firms – both large and small – should be preparing for the challenges and opportunities that variances in market activity bring. If activity levels remain relatively subdued in the short-term it will be interesting to see how the competitive landscape responds. Challenger firms are pressing on through uncertain times and the signs suggest that larger firms are getting smarter and more efficient to take advantage of a challenging market."
Kindly shared by Search Acumen