REVEALED: The Most Common Mistakes Found on Law Firm Websites
The best law firm websites don't need to look fancy- but they do need to rank on Google; after all, what good is a sleek website when no one sees it?
The most common issue found on law firm websites was a lack of internal linking
17% of law firms are suspected to take part in shady link buying schemes
40% of law firms are being held back from online success by slow webpage speeds
67% of law firms do not optimise their websites for keywords
Search engine experts Reboot Digital Marketing have conducted extensive SEO audits to find out what is holding law firms back from ranking in a number one spot on Google.
To do this they analysed the first three pages of Google results for the key term "law firms", (more about their methodology can be read here.)
The most common issues found on law firm websites
Lack of internal linking – 73% have not linked to other pages within their website
Pages not keyword optimised – 67% have not conducted proper keyword research
Incorrect indexing of pages – 60% of law firms had pages indexed on Google that should not have been
Poor meta titles – 40% of the sites analysed had not structured their meta titles effectively.
Pages with nothing of value – around 40% of law firms waste their crawl budget on so-called 'thin content'.
The most common website problem law organisations had was a lack of linking internally to all their webpages. This means that their structure isn't optimised for Google to crawl, index and understand it. The effect that this has on your rankings can clearly be evidence when you consider that while 50% of page 1 law firm results didn't have an internal linking strategy, this goes up to a whopping 93% of sites on page 3.
The second most common SEO fault was a lack of keyword optimisation. Overall 67% of law sites haven't optimised their pages for keywords, yet this goes up to 79% of law firms on page 3 of Google. Incorrect page indexation, poorly structured meta titles and website pages that provided nothing of value to a visitor could all also be commonly seen on law firm websites.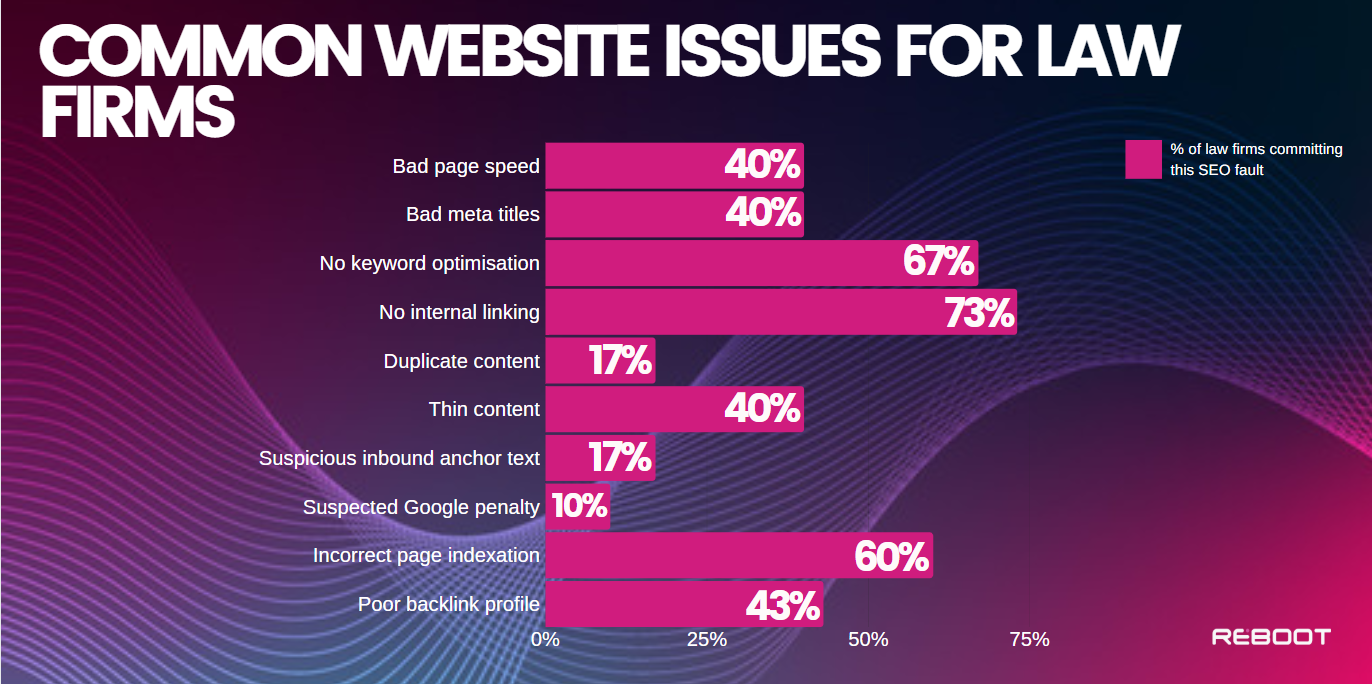 Law firms not always using above-board tactics to rank
What's more, analysis from Reboot Digital Marketing revealed that law firms may not always be adhering to Google's own laws and policies.
The shady tactics uncovered by audits included:
17% of law firms had suspicious inbound anchor text – meaning the text linking to them was overly optimised, hinting at the fact that the companies could have been involved in a controversial link-buying scheme.
17% had COPIED content from other law websites
13% of law firms didn't have a secure connection (using https) – meaning that the law firms in question did not have a security certificate, and your information (like passwords, card details or contact data) is not private when being sent to them.
10% of law firms analysed had potentially received a Google penalty – An analysis in website traffic revealed that one in ten law firms had suspicious drops in traffic, where Google may have removed their website from the search engine results page due to non-conformance with the guidelines.
Abby Chinery, Marketing Manager at Reboot Digital Market, says:
"Law firms must master SEO in order to succeed both online and offline. They should offer searchers genuine, useful advice to rank on Google- and avoid shady link building schemes."
Kindly shared by Reboot Digital Marketing