Greenland's Melting Ice Sheet and Our Disappearing Coast
Cottage owners on a famous stretch of Sussex coastline have put out a plea for £1m to pay for urgent sea defences before time runs out on our disappearing coast.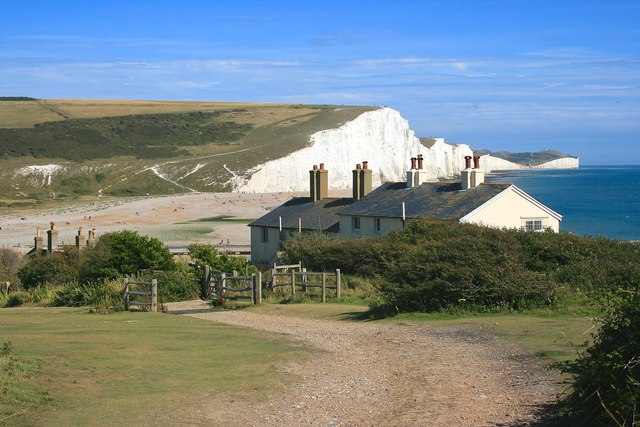 The call comes as new surveys indicate the speed of Greenland's ice sheet is melting faster than ever, with some of the most iconic UK coastal landscapes and communities under threat.
The Sussex Downs arrive at the Channel at a famous section, known as The Seven Sisters, between Cuckmere Haven and Birling Gap.
At Cuckmere Haven, the hills are cleaved in two by the winding Cuckmere River that empties onto the sea alongside a set of picturesque cliff-top cottages. With the Severn Sisters cliffs in the background, it makes one of the most beloved views in England.
It is a fragile coast, with many parts of Birling Gap having fallen into the sea. The residents of Coastguard Cottages have been protected in the past by the original sea wall built in 1947, thanks to post-war reparation funds. They were further strengthened by a lower wall, paid for by the residents in 1987.
Self-help flood defences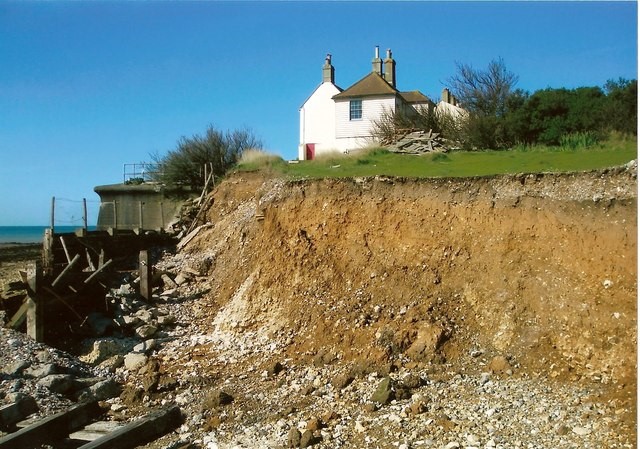 However, The Environment Agency (EA) has now stopped the funding for its sea wall which was damaged during storms in 2013 and 2014. They say this is part of the shoreline management plan to retreat, rather than replacing hard defences. The Local Authority has also said that they are not under a statutory obligation to maintain any sea defences.
This has had a knock on effect of eroding the residents' own defences. In response, they paid £60,000 of their own money in 2014 for a concrete and boulder construction. However, in a single night in 2016, the entire structure was washed away, exposing the cottages' vulnerability again, as the cliffs around them continued to erode at the rate of 30 to 40 cm per year.
Facing a Growing Threat
One of the four buildings that stand on top of the cliffs has been owned by Lucy Mutter and her family for four generations, descendants of the original coastguards that the cottages were built for.  She and her neighbour Carolyn McCourt are members of Cuckmere Haven SOS, a campaign group that is aiming to raise the funds needed to expand the sea wall originally built by the EA.
An estimated £1m is needed because plant machinery will be required in a challenging environment. It has cost £50,000 just for the planning application alone, which has now been submitted. So far the group has raised £40,000.
Hear Caroline and Lucy's story of how they live on the cliff edge, facing the challenge to protect the cottages. https://www.bbc.co.uk/sounds/play/m00051gj (requires TV licence to play)
Dr Raymond Ward, principal lecturer on physical geography at the University of Brighton, says that the South East of England has an annual sea level rise of 4mm of sea level per year. This, he states, is in part due to the land mass is sinking as part of the glacial rebound from the ice age.
But the rate of climate change is locked into a cycle that is feeding itself and will accelerate over the next 20, 50 and 100 years. Dr Ward puts this down to CO2 from industrial activity, but also permafrost and glacial melt as the Arctic regions experience unprecedented temperatures.
Greenland: Unprecedented Ice Melt
Greenland's massive ice sheet is about seven times the area of the UK and up to 3km thick in places.  If the whole sheet melted, it would raise global sea levels by up to 7 metres.
Scientists are quick to stress that this is not going to happen any time soon, but just a small increase in the rate of melting, could threaten millions of people living in low lying areas.
Until recently, the ice sheet was generally in a state of balance – the amount of snow falling in winter was roughly equal to the amount of ice melting in summer.
However, since 2003, it has lost a staggering 3 and a half trillion tons of ice.
During this year alone, Greenland has lost a record amount of ice, and researchers at Geological Survey of Denmark and Greenland (GEUS) have suggested that this rate of melt will increase global sea levels by 2mm.
2mm may not sound a lot on its own, but add this year in year together with estimates for climate change acceleration and the current loss rate means for global sea levels to rise by just under 1m by 2200 from Greenland alone.
Add to this the melt from Antarctica and you can see the problem – and these are averages. Currents and weather systems will create greater localised variations that could be much higher – and the south and east of the UK are some of the most vulnerable locations.
The 13th June this year saw an extraordinary warming peak on Greenland.  Temperatures rose 22C degrees above their norms on the ice caps, as recorded by the Danish Meteorological Institute (DMI). On that day alone, the DMI estimated that Greenland lost 2bn tons of ice, with 45% of the ice cap recorded as starting to melt.
Dramatic footage from Laurie Garrett on that day showed torrents of water gushing under the bridge to Kangerlussiauq and out into the sea.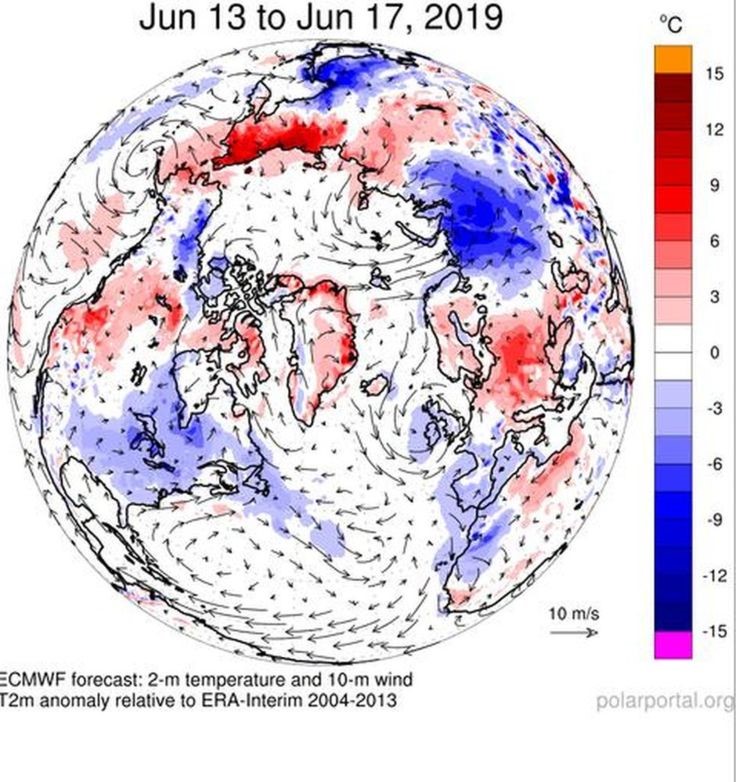 Retreat or Protect?
Back at Cuckmere, the residents see this as more than just a King Canute-like fight against the elements. With many international visitors drawn by its iconic views, they feel it is part of the national heritage that could be lost to the sea in the years to come.
The Environment Agency maintains that the reason for ceasing flood defences in the estuary because there was little flood risk.
It said it still regularly cleared shingle from the mouth of the river. However, it has said it is investing £2.6bn on other areas of the coastline between 2015 and 2021 to protect 300,000 homes.
And this is the dilemma – do you protect the few because of the iconic buildings and view, or the many in less remarkable places? The answer for the EA, as a statutory body, is perhaps very obvious when you put it like this.
Predicting Future Coastal Change
Many may scoff and say that sea level rise will take more than their lifetimes to have an effect. But it takes one storm surge and one spring tide, together with added sea levels to create an immediate catastrophe the likes of which we have seen before in Canvey Island.
If you are planning to purchase a coastal property, it is essential to understand whether the existing defences are up to the job. You need to understand how the coastline is changing and its rate of retreat and subsidence risks.  If flood defences exist, will investment be maintained or is the local plan to retreat?  What do past flood extents and future climate modelling tell about the risk.
At Future Climate Info, our environmental reports and specialist flood risk services provide conveyancers and their clients with the best possible combination.
Our interpreted data, with a professional opinion on how the risk could evolve into the future, means your client has the most accurate judgement on whether their coastal property dream could turn into a long term, blighted nightmare.
For more information, contact us on 01732 755180 or email info@futureclimateinfo.com.
Kindly shared by Future Climate Info