Birketts' Senior Conveyancing Executive nominated for National Paralegal award for second consecutive year
Top 100 law firm Birketts' Senior Conveyancing Executive Kelvin Cooper has been nominated as a finalist for the title of Best Conveyancing Paralegal at the National Paralegal Awards for the second year running.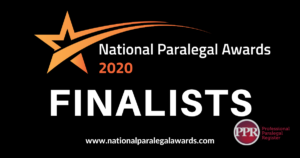 Kelvin has also been asked to join the advisory board for the eastern region.
Organised by voluntary regulator The Professional Paralegal Register (PPR), the awards are designed to celebrate the fantastic work done by paralegals across the country and recognise the vital support and legal expertise they provide within the sector. Now in their second year, the awards offer a chance for paralegals to receive acknowledgement for their achievements and to network with their peers, as well as providing an opportunity to raise the profile of the work of paralegals more generally.
Open to will writers, HR/Employment advisers and a range of employees working in paralegal sector roles, the awards will be overseen by an expert judging panel comprising of legal and business professionals. The independently chosen panel of 17 highly regarded industry specialists will be presided over by Amir Ali MCICM, chairman of the Canadian Credit Union Association.
Of his nomination, Kelvin commented:
"To be shortlisted as Best Conveyancing Paralegal for the second year running is a huge honour. Given the breadth and range of paralegal activity undertaken in the UK and the number of high quality entries received across 16 individual and business categories, I am very proud to have the opportunity to represent the firm at this significant industry event."
Winners will be announced at a black tie ceremony at The Grand Connaught Rooms in London on the evening of Friday 27 March 2020.
Kindly shared by Birketts LLP