Bell Lamb & Joynson Solicitors launch new app features in preparation for 200-year milestone
Bell Lamb & Joynson Solicitors has introduced a series of updated features to its state-of-the-art residential conveyancing app, which boasts over 4,000 users since its inception in summer 2019.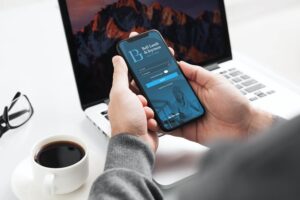 The award-winning North West legal firm has integrated a number of existing processes into its mobile phone app, such as instant ID verification, document sharing and electronic signing of documents. In addition, home buyers will have the option to provide evidence of their bank statements using open banking software directly from the app itself.
The platform allows for real-time tracking, sending notifications to users each time progress has been made and enables clients to engage directly with a legal professional via an in-app live chat functionality.
The changes come following a busy year for Bell Lamb & Joynson Solicitors as it prepares to mark its 200th business anniversary in 2021. The firm has welcomed 12 new members of staff throughout the pandemic in areas such as conveyancing and business development to name a few.
Managing Partner at Bell Lamb & Joynson Solicitors Mike Leeman said:
"Despite such a challenging year for everyone, we've been very fortunate that we've been able to carry on, largely due to our digital way of working. As a progressive and forward-thinking firm, we're always looking at ways in which we can enhance our products and make the customer experience easier and more time effective and our conveyancing app has allowed us to do that.
"Although it's felt that the world has been at a standstill throughout parts of the year, legal matters never stop, and conveyancing in particular has proven to be busy for us with October being a record month for instructions. In line with this demand, it seemed fitting that we launch our new app features, which we've been working on behind the scenes for quite some time. So far, we've received brilliant feedback from clients who appreciate the instant nature of our communication and of course, the ability to progress their case digitally within a single mobile platform at a time when it's difficult to meet face to face."
Since it was established in 1821, Bell Lamb & Joynson Solicitors has upheld an outstanding reputation as a leading law firm in the region, with clients across England and Wales. Dealing with all manner of legal matters including criminal and family law and wills and probate, they have invested heavily into their digital offering across the last four years.
Mike added:
"We're always thinking ahead to be able to offer the best service that we can, and are continually exploring new and emerging technologies that we think have the power to change the industry as a whole. Taking a more digital route has really paid off for us both internally, helping us to better manage our processes and the way we work, as well as benefiting our customers.
"As part of these ongoing changes we're currently working on a new website, which we hope to unveil early in 2021 – we may be almost 200 years old but we pride ourselves on our modern take on all things legal."
For more information visit www.bljsolicitors.co.uk.
Kindly shared by Bell, Lamb & Joynson Solicitors